Plate Heat Exchanger Gaskets & Plates for Ship-building Plate Heat Exchangers Products
ARD PHE CO.,LTD. a leader in Plate Heat Exchanger industry in China. We can provide all brands of plate heat exchangers and gaskets,including: SPX, APV, GEA, TRANTER, SWEP, SONDEX, API.Schmidt, HISAKA,FUNKE, Thermowave, Vicarb, DONGHWA, ACCESSEN, MULLER, FISCHER,REHEAT etc, and usually, we prepare some conventional models in our stock for urgent orders, so the delivery time is not a problem, in any case, if you have any requirements in price or delivery time, pls contact us.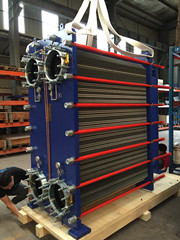 Ship-building Plate Heat Exchanger


The ARD plate heat exchanger has today become a standard component in the cooling system of many marine application designs.
Our heat exchanger is designed according to the ship classifications bureaus specifications and rules securing the shipowner that ARD plate heat exchanger is designed to meet the high demand for quality which is necessary in order to give a long lifetime and a trouble free use of the plate heat exchanger.
The ARD Marine Plate Range
The range of ARD Marine plate heat exchangers consists of 18 plate types each with 2 different corrugations(thermal hard and thermal soft).
The range consists of plates with areas from 0.04m3/pl.to 2.00m3/plate and from 1" to 14" connections enabling us to handle flow rates up to 2000 m3/hr.The frame edge clamped with normal industrial painted frame or in coated frame.