Plate Heat Exchanger Gaskets & Plates for Double-wall Plate Heat Exchangers Products
ARD PHE CO.,LTD. a leader in Plate Heat Exchanger industry in China. We can provide all brands of plate heat exchangers and gaskets,including: SPX, APV, GEA, TRANTER, SWEP, SONDEX, API.Schmidt, HISAKA,FUNKE, Thermowave, Vicarb, DONGHWA, ACCESSEN, MULLER, FISCHER,REHEAT etc, and usually, we prepare some conventional models in our stock for urgent orders, so the delivery time is not a problem, in any case, if you have any requirements in price or delivery time, pls contact us.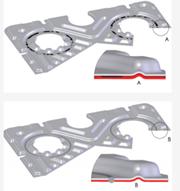 Double-wall Plate Heat Exchanger
The Double-Wall plate is just as its name indicates,a double plate design.Rather than using single plates between the fluids this design uses double plates to increase safety.The plate pack consists of a set of double plates where each double plate has two identical plates stacked on top of each other and are joined together by laser welds around the ports.A thin air gap between the plates acts as a safety zone in case any one of the two plates were to fail,If any one of the two fluids would leak through the first plate it would be prevented from going any further due to the air gap and the second plate.The leak would show up as a peripheral leak to atmosphere and will be visible from the outside.
The double plates in addition to the standard double gasket system offer maximum safety against cross contamination and is a high efficiency alternative to traditional double wall heat exchangers such as double-wall shell&tubes and double-coils.